Ultra real SG+ Android
「 SG+ AyuRoid 」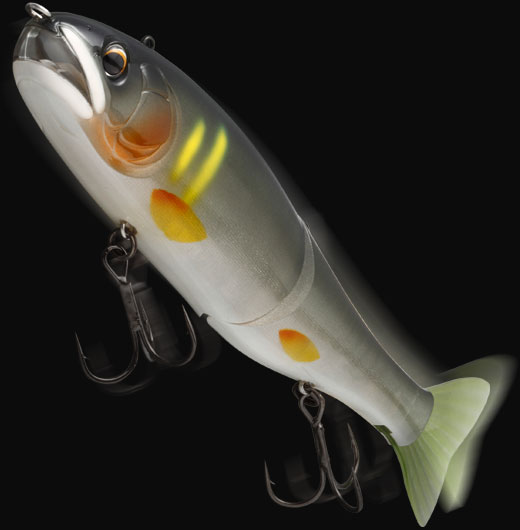 New mechanism installed IS-Big Bait
This is ultra real big bait having remarkably improved fish-attracting ability which can be handled by standard heavy class rod.
It is 180mm and 2.3oz class.

This bait is adjusted in slow sinking nearly suspending which attracts big bass from structure. Just leaving this bait just under surface by structure,
and make action in I-retrieve without motion, S-retrieve with no dumper or jerking action.

And this bait equipped with Back Hook System which is very effective for fishing of bottom-stay, near structures, etc. Bass can not see the hooks on back system. With this system we get more hooking power than W-hook and
it is easy to making setting for anglers.

How to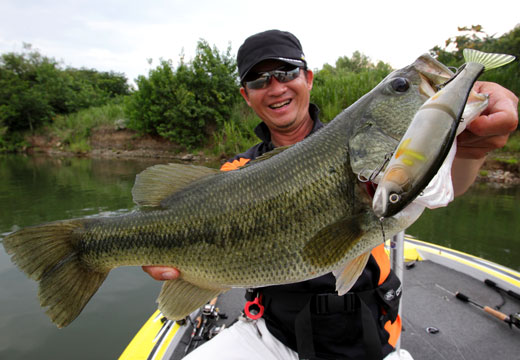 At the clear water with covers and vertical structures,
make super-slow-retrieve in I-mode in 3 foot under surface by these structures with looking the bait.

In back water, strong current location or muddy water, you can get wide and strong S-mode retrieve by removing JOINT SHOCK DAMPER (PAT.P)

The S-mode is like a cranking style with high appeal.
Detail
JOINT SHOCK DAMPER (PAT.P)
Damper is equipped at the bottom of jointed part.
The damper is detachable by join-pin. And you can change to other pin in hardness.
So, you can make any actions in
I-swimming or S-swimming.
Improved buoyancy adjustment
You can adjust floating power easily. Putting floater material or sinker like a tungsten sheet into the slit.
And also the design of slit is improved.
Tail is also detachable. We recommend to remove when you put it into
tackle box. Insert direction is shown by arrow.
Color Chart
#315 YOUROU AYU
#320 Matt AYU
#341 Muddy AYU
#343 Spawn Trout
#363 Hiviz' Silver Trout
#364 Hiviz' Pink OCHIAYU
#367 Ghost Chart AYU
#370 Bloody Blossom・FireTail
#372 Mirror Scale OIKAWA ♀
#375 Muddy Crystal Chart
#376 Hiviz' AYU FireTail
Color Chart 
(

Great Green Turban

Plate)
#419 3D Great Green Turban AYU  
#420 3D Great Green Turban Chart 
#455 Albino Shad (White Great Green Turban)
#457 Albino Shad (Black Great Green Turban)
Color Chart 
(

Abalone

Plate)
#409 3D Abalone AYU
#410 3D Abalone Chart
#434 Abalone Cherry Blossom
#435 Black Abalone Cherry Blossom
#451 Albino Shad (White Abalone)
#454 Albino Shad (Black Abalone)
#479 Flash SUNAHAMIAYU
#480 Flash OTORIAYU
#481 Flash OCHIAYU
#483 Natural SUNAHAMIAYU
#484 Natural OTORIAYU
#485 Natural OCHIAYU
#486 HV Flash SUNAHAMIAYU
#489 HV Flash OTORIAYU
#497 KINBUNA
NOTES
●To avoid any deformation, please refrain storing you're fishing lures from other soft plastic lures.
●Do not hit your lure on the ground or any to take out some of the weeds or other remains from the fields
when you might damage or give serious crack on the lure.
●We're extra careful to deliver our products in its effective setups as IMAKATSU Brand.
However, if retrieving is not in straight, please tune up the eye positions of your lure.





●Please be extra careful in sharp hook or items within this product.
●Keep out of reach of children.
●Do not use the lure for any other purpose or use.
●Please be careful while you're using the lure.
●Please do not pull your rod if your lure is hooked to any object.