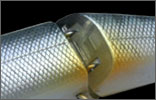 Jointed Body
Adding with flashing effect in dart actions, its body design makes most natural flexibility. Lively twisting or escaping silhouette will enhance your fishing opportunity. By pausing too, the Killer BiLL is flexible bringing the real live bait ever you experience.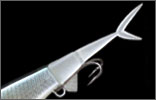 KILLER TAIL SYSTEM (PAT.P)
Double hook nips the elastic fin never to miss the kissing bits which positions as part of body easily swallow by the bass in the tough conditions.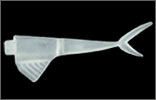 Elastic Soft Tail
Flexibility and Endurance are mixed in soft tail. Secret rib is at its second joint to bring out lively actions.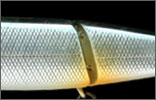 Calculated angle of joints will make cracking sounds and natural undulation to take out your bass.


How to set up
1) Open your double hook
2) Put the elastic fin.
3) Pull the fin and nip it.

** Spare tail included.


Body size of 3.5 inches in most amazing hook up potentials by the triple hook system "Killer Tail System (PAT.P)", any loose hook will lock up your target by its flexibilities during the fights.